Regular 4-weekly Garden Bag Service
Regular 4-weekly collection service (every 28 days).
Your new garden bag comes complete with it's own frame so it will stand neatly in your garden.
Extra large capacity (a huge 600 litres).
The garden bag is ideal for those with large properties, hedges or bushes or for gardeners.
Bags are collected from your property near to the road.
Your garden bag(s) must be placed for collection on your property, within the parameters specified in our terms and conditions. Garden Bags must not be placed on Council property, including the berm. We cannot collect bags up or down steep driveways, or up or down stairs. If your property layout means that your garden bag will be outside of these parameters, please contact us so we can discuss your options.
You must comply with our Bag and Bin Fill Policy.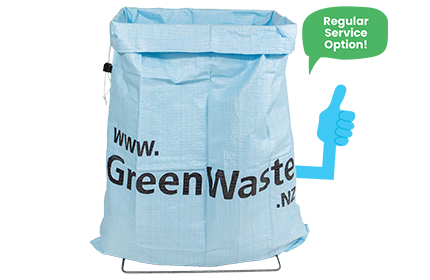 Order Now
Order now to see our services and prices available at your address.